What really is a trunk show? For us, the opportunity to get out of the store and in front of new customers. The bonus is, they most often have charitable component and are in some really lovely places! If we're being totally honest not only do we work hard on these trips, but we make sure to play hard too- exploring great restaurants, checking out the local stores and soaking up whatever the surroundings have to offer. Most are put on by schools, country club associations, hospitals, and other organizations looking for large fundraising opportunities to benefit their cause. Here's the wild thing..some of the vendors forego having a store and just travel the trunk show circuit. You should see the rigs they put together and the elaborate booths they create. You can't imagine the amount of hard work and schlepping that goes into this.
Imagine a school gym, country club ball room, community center, etc transformed into a mini mall of 10 x 10 or 10 x 20 booths- and all done in a few hours time. Vendors, Grove Girls included, descend into a location and suddenly it is a flurry of activity. Tablecloths flying, backdrops and try-on tents be erected, pleasant introductions being made, and or course stalking other booths in hopes that their is no overlap in the products you have brought! Most shows stock the booths with tables and access to power but the rest is up to the individual merchants. It is on each business to bring rollings racks, mirrors, tablecloths etc. We run our businesses through Shopify which means we need iPads, credit card readers, chargers not to mention all the bags and tissue to package up the customers goodies. Most importantly we need product, so very much product….we try to offer clothing geared toward the climate and customer we will be in front of, accessories and then gifting. Many of these shows cater to a multigenerational audience so the product assortment needs to be varied.
Once the show starts it is a flurry of activity. Unlike in the store when you have time to spend with a client helping to find just the right item for them, trunk show interactions are fast. Most clients spend just a few minutes in each booth. It is our job to figure out styles and colors that may compliment them and make suggestions quickly. We have a few brands, Miss June and Caryn Lawn, that do a great job making clothing that is one size- these are trunk show winners for us since they look good on so many body styles. We also take lines that we are super familiar with in terms of quality and fit because we need to be knowledgeable and fast. We save new lines for the store so we have time to experiment and get an understanding of the brand.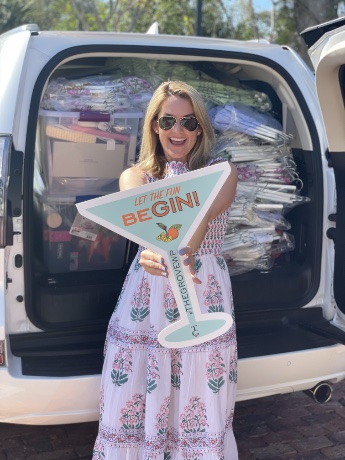 So let's jump back to the beginning…
Trunk shows happen all over the country and are usually tied to the region's "season" or busy time. January through May they are heavily concentrated in the South, Texas and Florida to accommodate the snow bird's Southern migration and school calendars. As the Summer rolls into Fall, more shows head to the Northeast and Midwest following the pleasant temperatures and vacation patterns. Vendors are usually chosen a year in advance so they can buy products according to the locations and clientele of the shows. Each show has a different process for applying, and the best bet- jump on the internet and look for a show you best think you are suited for. Some of the shows have online applications, certainly they will list who is in charge and you can personally reach out to express your interest. It may take a year or two to get in, as many of the vendors return and they need time to make room. Personal relationships with your clients may be a great resource as well. Once you get into one show it is much easier to get into others. Just keep in mind there is a pretty hefty financial commitment involved, shows have a booth fee that will vary from from show to show and then they require a percentage of sales donated back to the charity of their choosing- it usually ranges from 15-25%. You also must factor in the cost of product, accommodations while participating plus any other expenses.
If you know us, you may know we hate to say "NO." We have shows we participate in annually, and then we leave room for new opportunities and figure the rest out as we go along. Here are a few of our favorite Florida shows...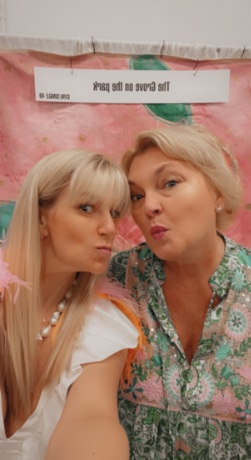 St. Edwards School, Vero Beach, Florida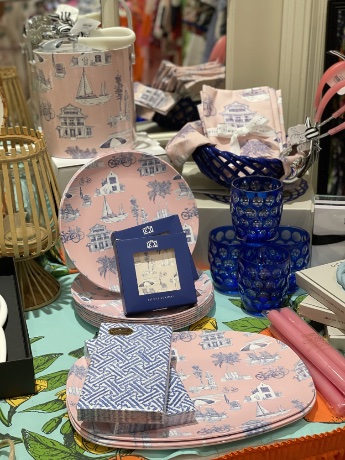 Loblollypop, Loblolly Country Club, Hobe Sound, Florida
This one is going home for Meredith. We forgo the hotel and stay with her mom, where there is an abundance of tea, home cooked meals, and comfortable beds! This show is a part of their charity week and goes to support lots of local organizations in the Stuart and Hobe Sound area.
Stay and Eat at Meredith's mom's house (just joking! But you are missing out on her award-winning poached pears 🤤)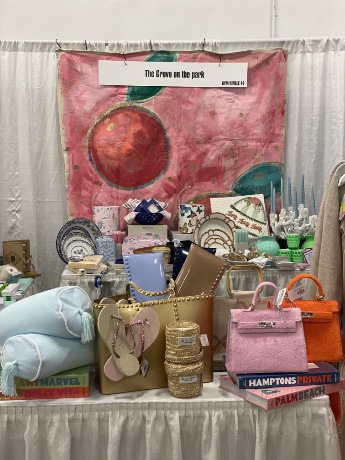 Banyan Street Trunk Show, Boca Grande, Florida
If you're looking for a trunk show in paradise…this is where it's at. Stores like ours, amazing jewelers, stationers and groovy brands of all kinds can pop up at the Community Center. These shows are put on by the loviest dynamo, Mary O' Bannon, who has taken on this endeavor for years. Her expertise shows.…The Banyan Street shows run February and March in the height of season on the island. Vendors are invited to set up on Wednesday afternoons and the weekly shows are Thursdays and Fridays. We have been fortunate enough to participate in this show for a few years, we are always impressed by fellow vendors and the clientele that shop the show. Not only are we in for the show but for the great food and drink as well. While in town sure to check out...
Stay at The Gasparillia Inn
Eat at The Temp, The Pink Elephant and Scarpa's
There are a few other very popular shows in Florida are Boutique d'Reef in Ocean Reef and Wayside House in Delray Beach.
Keep in mind while we are popping up all over the State we are also running the store- it takes a lot of effort and we rely heavily on our amazing staff while we are on the road. There are a few times a year that it is just too busy for us to leave town. Of course this is different for everyone but after we do our handful of shows we look forward to getting back to the store for a few months.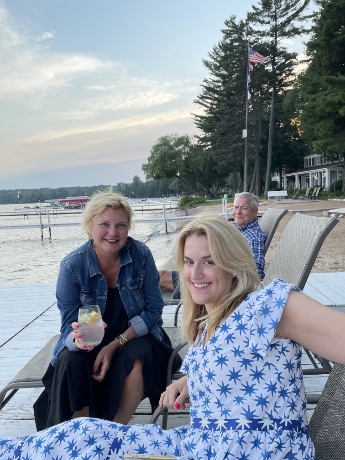 Once Summer rolls around it gets quiet in Central Florida. Let's face it, it's as hot as the surface of the sun! So we like to hit the road if we can. We are blessed that our resident TikTok star, organizational phenom and social butterfly Don Don invites us to her family's Summer home in Northern Michigan and we host a quick show at The Mullett Lake Country Club just after the 4th of July. It is a close-knit community on Lake Michigan and everyone knows each other and has for generations, so what they lack in population they make up for in spades with personality and a desire to shop with friends.
Fall brings another frenzy of trunk show activity.
Fall brings another frenzy of trunk show activity. There are too many shows to mention but we have enjoyed our time at Pizzazz in Pittsburgh, PA benefiting The Garden Club of Allegheny County and the Lake Forest Hospital show in Illinois. Our absolute favorite though is the Holiday Shops at the University School of Milwaukee! This show has been going on for over 40 years and people travel from all over the country to participate in this festive event. The organizers have it down to a science…the three day event kicks off with an opening night cocktail party followed by two days of shopping. We have been participating for 5 of the seven years we have been open. We are always greeted with warm smiles and enjoy seeing so many familiar faces. And lets' face it…after 6 months of sweltering Summer who wouldn't want to sneak away to Wisconsin to take in the Fall. Our favorite…early snowfalls! We work hard all day and spend our evenings curled up in front of the fire- this is truly the kick off to our holiday season.