There's a lot that goes into selecting the products we bring into the store. While there have been real advances in online wholesale marketplaces, we still like to touch and feel the majority of things we buy for the stores. For The Grove, in particular, how fabrics feel, drape and move is hard to see on the web. When we go to Market, we are traveling to dedicated buildings or convention centers where the manufacturers of clothing show their upcoming looks.
In Atlanta, which for the Southeast is the closest and largest wholesale market, there are dedicated days where the three large market buildings downtown show new products from vendors. Vendors fall into two categories: Showrooms or Temporaries. Showrooms are permanently housed in the market buildings. That's where those brand representatives report to work on a daily basis, when they aren't on the road visiting accounts. For both apparel/accessories and home & gift, these showrooms are usually fairly large, and staffed by a core group of people. These representatives work with certain lines to show them to potential buyers. A lot of representatives actually influence the design process for the lines they sell, as they are the closest to the retail buyer, and hear all of the feedback and suggestions from the stores to which they sell.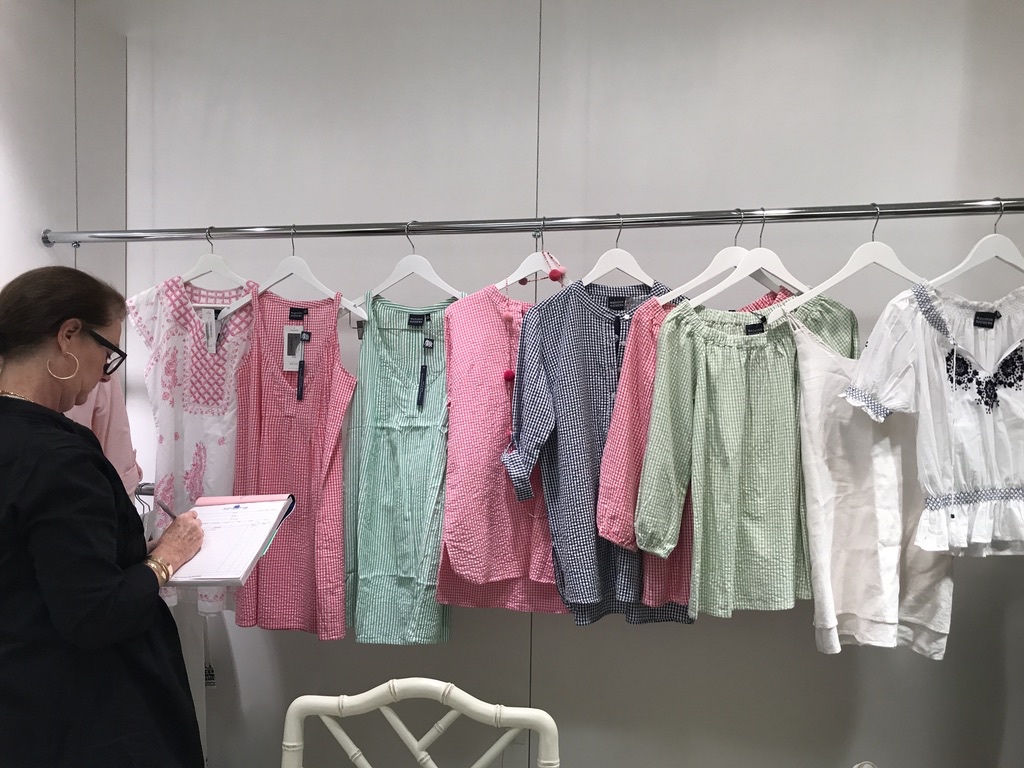 "Showing the Line"
In some apparel showrooms, the buyer (us) sits down in a row of chairs and the rep "shows" or "works" the line. It's like a mini-fashion show just for you, and they have models available to try on the garments if you need a closer look. We like to do this because it helps us see the line as the designer intended. We can see trend themes, fabric pairings and complementary shapes for that delivery.
Terminology
Delivery Window
These are the dates in which the item is estimated to leave its manufacturer or distributer and head to the store. A buyer plans certain items to arrive together and complement one another- certain bags with dresses, or sun hats with swimwear.
Cancel Date
A cancel date is assigned to most orders. It indicates that if an item isn't in transit from the shipper to the buyer by a certain date, the buyer may cancel the order. When we buy seasonal items, we need them to arrive as planned. If a vendor can't fulfill the order in the agreed-up delivery window, a store will likely cancel.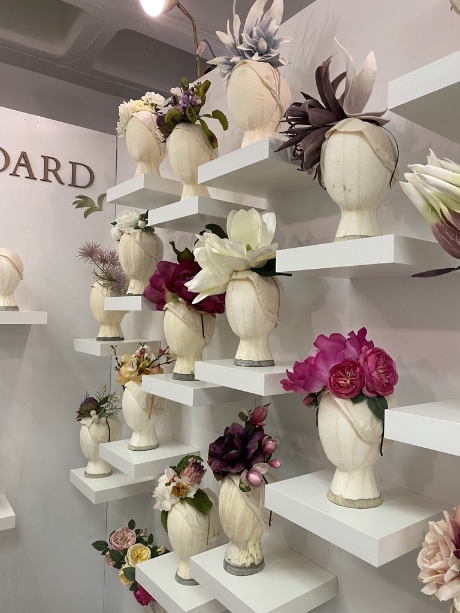 Small Showrooms & Temps
In smaller showrooms, the clothing is displayed on racks, like in a store, and we look through the racks to build our collection. This is faster, but it's easier to miss the details the designer intends to showcase. Temporaries are just that. They are booths that are rented by emerging designers and brands, as well as lines that produce a lot of volume. It wouldn't make sense for them to be in a showroom, as they create so many styles the reps would never keep up. This is where we find the majority of our "cheap and cheerful" products- the items that are most trend-based and very affordably priced. Frequently these booths are very busy, and the workers may carry electronic scanners to scan the barcodes of your selections. Most of these brands have estimated delivery dates, but things just sort of arrive in the store when they get there, rather than with a solid schedule. This is also where we find fun one of a kind items, whether it's Derby fascinators, roller skates or unique handbags.
Writing An Order
Once we pick a product, we tell the rep how many we want and in what sizes. He or she may advise us the line is fitting big or small, and we adjust accordingly. This is also where we tack on a few "personals" for ourselves. We love everything we bring into the store, but we have to leave some inventory for the customers! The hardest part now is the waiting. When we're buying , those items can show up anywhere from one week to several months away. With clothing we're typically shopping a season or two ahead, but when it comes to Christmas decor, we start that in January! When we find something we love, we can't wait to get our hands on it- so to wait is hard 😬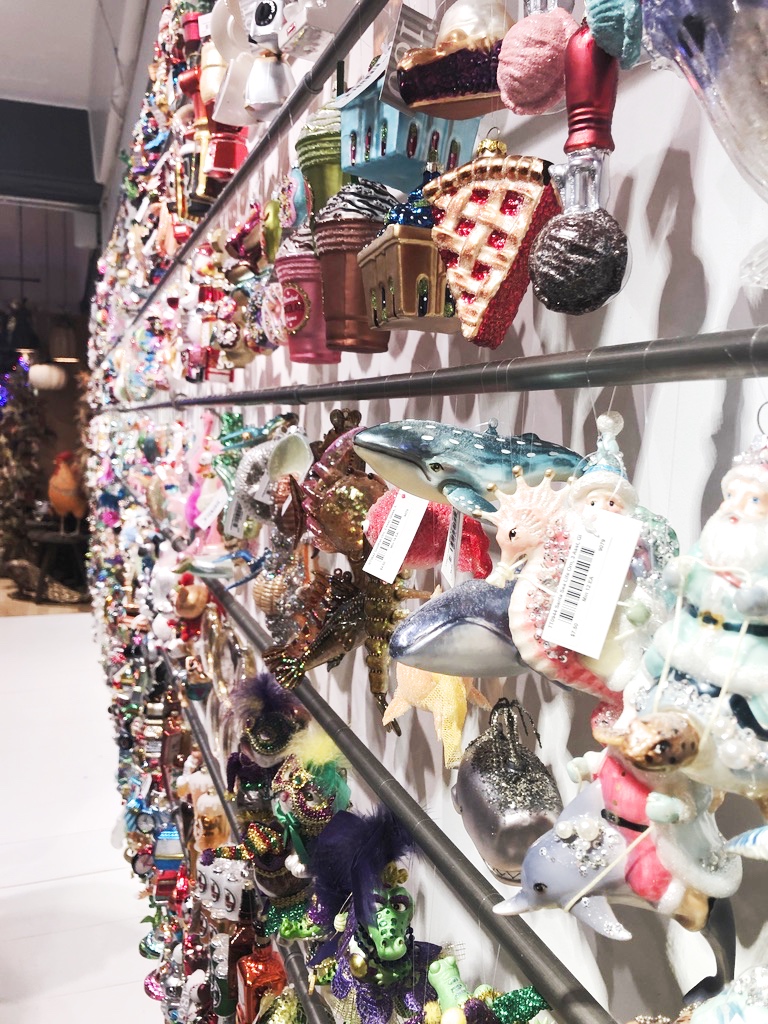 Home & Gift
It's very similar in the Home & Gift category- there are a lot more permanent showrooms in home & gift- the logistics of moving all that furniture in and out of temporaries would baffle the mind. When Emily is working on an interior design project, she will walk the showrooms looking for specific pieces or just to get ideas. There's everything from rugs to art to lighting and upholstery fabric- it can be overwhelming very quickly unless you're focused. In Home & Gift temporaries, we find so many fun things. It's a great way for overseas brands to get in front of a wider US market without a huge investment. We find great gifting from emerging brands here all the time- and a lot of products fresh from Shark Tank, which is always fun. And if you love Christmas, this just might make you weep with joy- literally everything you could imagine set up in a perpetual Winter Wonderland!
The Schedule
There is a seasonality to markets- they start in early January and go heavy through the Spring. We frequently go to Palm Beach, Miami, New York, Dallas AND Atlanta just in the first quarter. April and May ease up, and then back to buying June through September. Once October hits, it's harder to get away. We only travel at that time of year if its necessary- we just need to be in store and at our pop-ups. We track our buys through order confirmations that we file by month of delivery. If you hear us say we have something you'll like coming in next month, it's because we've scheduled that delivery date to work with our calendar of events and occasions. But if we look at our order confirmations and don't feel like we have enough gifting for May, or enough party dresses for the holidays, we may make a last-minute trip to a market we hadn't previously scheduled.
Our Fave Markets
The brands shown at F.I.G. are always innovative and cool- while it's not all our look, there are always inspirational and aspirational pieces. Dallas Market Center is much like Atlanta, but they're clever and overlap their Apparel and Home/Gift markets once or twice a year. One-stop shopping! And you can't beat an icy margarita and crispy taco at the end of a long shopping day 🌮🤠